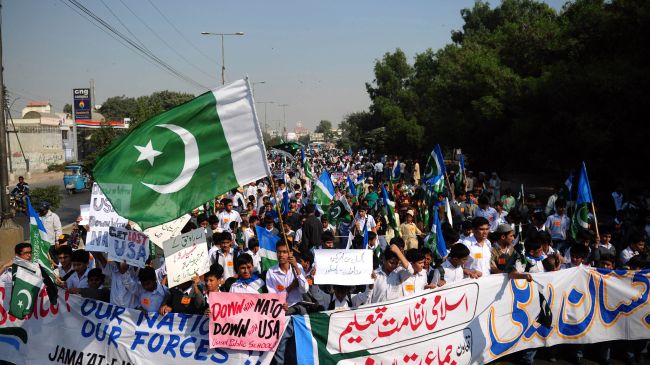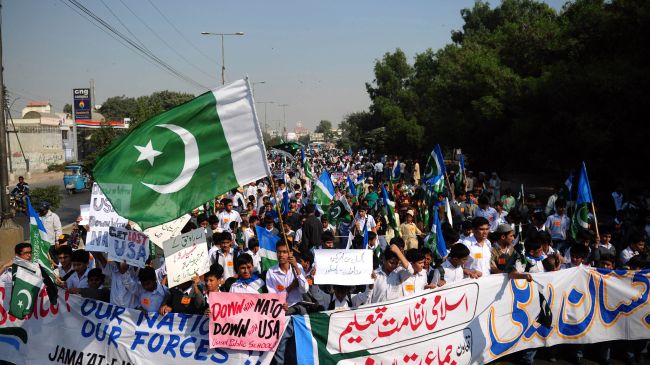 Thousands of activists have taken to the streets of the Pakistani capital Islamabad to protest against their government's managing of the ties between the US and its policies, Press TV reports.
Activists from more than 40 different religious political parties chanted slogans such as "death to America," condemning what they call US intervention in Pakistan.
They also denounced their government's failure to stop unsanctioned US drone strikes targeting the country's tribal region.
Protesters and activists further described the US as Pakistan's "biggest enemy," saying it will be defeated.
Following a US-led airstrike last November, which killed two dozen Pakistani soldiers, anti-US sentiments have escalated in Pakistan.
The deadly attack triggered large rallies across the country.
According to local media outlets, over 35,000 Pakistanis have lost their lives in bombings and other militant attacks since 2001, when Pakistan entered an alliance with the US in the so-called war on terror.
Tehrik-e Taliban Pakistan (TTP) militants and associated groups have carried out numerous attacks on security forces as well as civilians and managed to spread their influence in various regions of the country, despite frequent offensives by the Pakistani army.
Since late 2009, there has been a surge in militant attacks in Pakistan.