Iran
Middle East
North America
Palestine
Top US military general visits occupied lands, stresses 'need to pressure Iran'
US Chairman of the Joint Chiefs of Staff General Mark Milley makes an unannounced visit to Israel following a series of events which have raised fears of a new adventurism by the two regimes.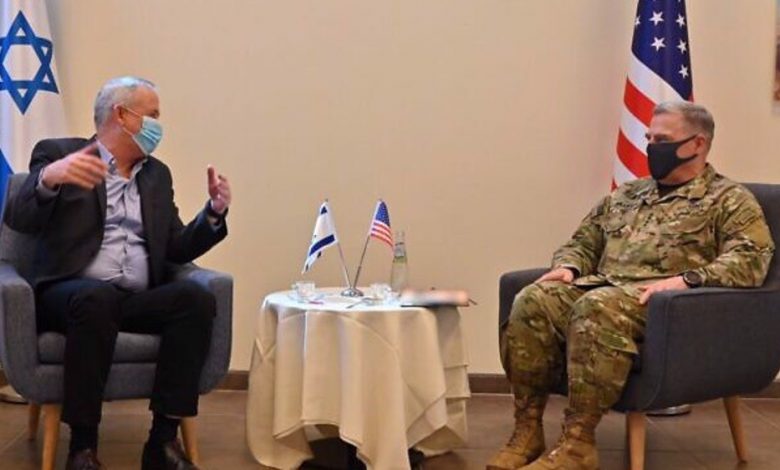 He met with senior Israeli military and intelligence leaders at an air base south of the occupied territories and discussed "regional security challenges." The US Army general also held a video conference with Israeli prime minister Benjamin Netanyahu.
Israeli minister of military affairs Benny Gantz said that during his talks with Milley, he had emphasized "the need to continue the pressure on Iran," claiming that regime's military "is prepared and ready for any scenario and any threat, and I do not suggest our enemies to test us."
The visit came a day after US warplanes operating illegally in Syria harassed an Iranian Beirut-bound passenger plane over Syrian airspace, which forced the Mahan Air flight to lower altitude to avoid collision.
Captain Bill Urban, spokesman for the US Central Command (CENTCOM), said that a single F-15 had made what is called a "standard visual inspection" of the Iranian airliner at "a safe distance of approximately 1,000 meters."
Iran's Foreign Ministry Spokesman Abbas Mousavi dismissed the claim as "ridiculous," saying the "illegal and dangerous" US maneuver amounted to playing with the lives of innocent people.
"The presence of American forces in Syria is illegal, and the air missions of their jet fighters are also illegal. More importantly, no one has allowed the United States to inspect passenger planes over the skies with its military jets," he added.
Mousavi also warned against any new adventurism by the US or the occupying regime of Israel in the region, noting that "stability and security in the West Asian region should not be used as a toy in the US election campaign".
Analysts say the government of US President Donald Trump is actually seeking to embark on new adventurism in the Middle East as polls suggest he may lose the November presidential election.
They also believe Netanyahu, who is grappling with increasing lack of public trust over corruption charges and the handling of the coronavirus pandemic, is trying to provoke a war with Iran while Trump is still in office.
On Friday, Israeli military helicopters carried out airstrikes against a number of positions in Syria's southwestern province of Quneitra, injuring two people.
Syria's official SANA news agency, citing an unnamed military source, reported that Israeli military helicopters hit "three sites" in the border areas of Quneitra with anti-tank guided missiles.
On Monday, Syria said its air defenses had successfully intercepted a new Israeli aggression above the capital Damascus.
After each attack in Syria, Israeli officials usually claim to have targeted Iranian or Iran-backed forces in the Arab country.
Israeli fighter jets have on several occasions used civilian aircraft as a shield to evade Syria's air defense systems and conduct aerial assaults on the Arab country.
Back in February, a Syrian civilian aircraft carrying 172 passengers was diverted from Damascus airport and forced to make an emergency landing at Russia's Hmeimim airbase after Syrian air defenses nearly hit it during an attempt to repulse Israeli airstrikes.
In 2018, Syrian forces accidentally shot down a Russian reconnaissance plane while responding to an Israeli attack with anti-aircraft missiles, killing 15 crew members.