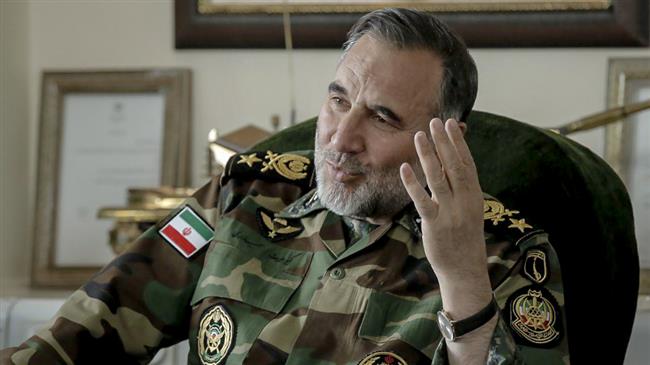 A senior Iranian Army commander says the United States has been threatening the Islamic Republic for the past 40 years, stressing that recent threats made by US President Donald Trump against Iran are "nothing but a bluff."
"The US will soon receive a crushing response," Brigadier General Kioumars Heydari, commander of the Iranian Army's Ground Forces, told the Islamic Republic News Agency (IRNA) in Tehran on Monday on the sidelines of special ceremonies to pay homage to Lieutenant General Qassem Soleimani, the commander of the Quds Force of the Islamic Revolution Guards Corps (IRGC), who was assassinated in a US airstrike in the Iraqi capital, Baghdad, early Friday.
He added that the Islamic Republic enjoys great capacities and capabilities to counter threats, saying, "Trump's remarks show his fear of the power of Iran and the resistance front."
In a Saturday tweet, the White House tenant claimed that the US military would hit "very important" targets related to Iran if the Islamic Republic seeks retaliation.
The US has already "targeted 52 Iranian sites (representing the 52 American hostages taken by Iran many years ago), some at a very high level & important to Iran," Trump tweeted, making a reference to the 1979 US embassy incident in Tehran.
The threat came after Iranian authorities said they would give a harsh response to the US strikes that led to the martyrdom of Lieutenant General Soleimani and the second-in-command of Iraq's Popular Mobilization Units (PMU), Abu Mahdi al-Muhandis, on President Trump's order.
The Iranian Foreign Ministry on Sunday summoned the Swiss ambassador, whose country represents Washington's interests in Iran, to convey the Islamic Republic's firm dismissal of Trump's threatening language, describing his latest anti-Iran threats as "utterly unacceptable and unconventional."
Iranian Deputy Foreign Minister for Political Affairs Abbas Araqchi said the diplomat was summoned to receive Iran's official protest over the "hostile" remarks made by the US president which "amount to war crime" under international law.
Referring to Trump's threat to strike Iran's cultural sites, the Iranian official said, "Such a threat is reminiscent of the Mongols' invasion or the actions of terrorist and criminal groups in the destruction of cultural and historical sites, which according to international law, amount to war crime."
US threats psychological warfare, sign of fear: IRGC commander
IRGC deputy commander for coordination Brigadier General Ali Fadavi also told IRNA that the US threats against Iran, particularly after General Soleimani's assassination, are a sign of its fear, stressing, "The Americans' psychological warfare will not influence our response to the assassination of the resistance [front]'s commanders."
He added that such threats being made by the Americans show that they are concerned about the resistance front's reaction to the martyrdom of General Soleimani and his companions.
The IRGC commander emphasized that the country would give a befitting response to the US attack as per Islam and the holy Quran.