North America
Trump's son calls on father to go to 'total war' over election fraud
The eldest son of US President Donald Trump has reiterated his father's claims about electoral fraud in the 2020 presidential election race, calling on him to "go to total war" with the aim of exposing such alleged irregularities.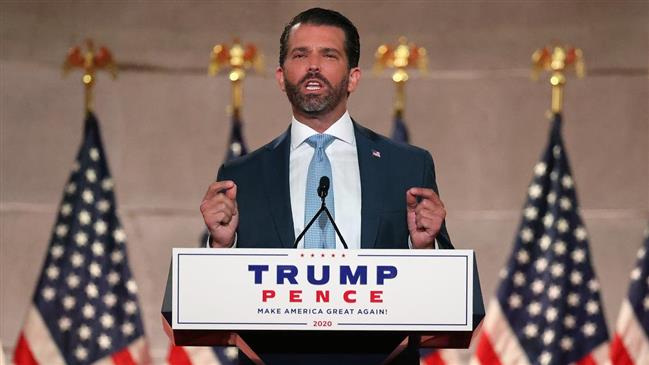 Donald Trump Jr. publicly urged his father at a news conference at the Georgia Republican Party Headquarters in Atlanta on Thursday to "fight to the death" in the US election, and claimed that widespread voter fraud had marred the ballot-casting.
"I think the number one thing Donald Trump can do in this election is fight each and every one of these battles to the death so that we get full transparency in the process… And everyone on the Democrat side should welcome this unless they are actually cheating," said Don Jr.
Trump's eldest son denounced the Democrats for violating voting deadlines by continuing to accept ballots that were allegedly not submitted in time.
"We know that's against the law but you get in front of a Democrat judge and a Democrat city with Democrat control and it's okay. I think the Democrats are used to this from a Republican Party that hasn't had a backbone – you're not going to see that this time around," he said to crowd of cheering supporters.
The president's son also cast doubt on the statistical possibility for the US president not to receive a single vote in some of the counties where up to a total of 123,000 ballots were all counted in favor of Democratic presidential candidate Joe Biden.
"Does anyone believe that this is possible? Because it's not, it's a statistical impossibility. It's happened not just once, it's happened over and over again. Americans need to know that this is not a banana republic and right now very few people have faith that's not the case," he said.
Vote counting for the US presidential election entered the third day on Friday, with no clear winner in the race for the White House.
Biden is leading in the states of Nevada and Arizona, but he is behind his Republican rival in Pennsylvania and North Carolina.
In Georgia, some 99 percent of the votes have been counted and the former vice president is leading over Trump by over a thousand votes there.
The delay in these key battleground states is because American states have different laws on counting mail-in ballots.
Biden's claiming of victory in Pennsylvania would suffice for him to accumulate the required 270 electoral votes to become the next US president after he won 264 electoral college votes.
Trump, however, would need to take North Carolina, Georgia and Pennsylvania to secure 271.