Europe
Iran
Middle East
North America
World News
UK, US will seriously regret tanker seizure: IRGC commander
The second-in-command of Iran's Islamic Revolution Guards Corps (IRGC) warns that the United Kingdom and the United States will soon seriously regret the recent seizure of a supertanker carrying Iranian oil.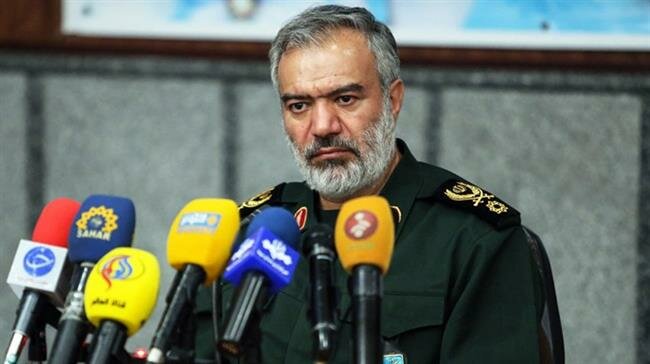 Speaking from the central Iranian province of Isfahan on Thursday, Rear Admiral Ali Fadavi dismissed the confiscation of the tanker carrying Iran's oil as a worthless action, saying, "The enemies would have not undertaken such measures had they chosen to exercise the least bit of prudence."
He also reminded that the vessel had been leased by Iran for freight purposes.
"They [the US and the UK], however, took such a move (seizure of the tanker), and will seriously repent doing it," the commander added.
Grace 1 was stormed and detained by British marines in the Strait of Gibraltar last week. They alleged that the supertanker was carrying Iranian crude oil to Syria in possible violation of the European Union's sanctions on the war-torn Arab country.
Iran summons UK envoy after 'illegal' tanker seizureIran's Foreign Ministry summons Britain's ambassador to the country after British forces seize an Iranian oil tanker in the Strait of Gibraltar.
On Wednesday, President Hassan Rouhani likewise warned the UK about the "consequences" of the confiscation. "I remind [this] to the Britons," he cautioned, "You are the ones initiating insecurity, and will come to realize its consequences in the future."
Iran warns UK about 'consequences' of oil tanker seizurePresident Hassan Rouhani warns the UK about the "consequences" of its intrusive actions targeting the Islamic Republic.
The cautioning messages came after the IRGC, which is Iran's elite defense force, shot down an intrusive American spy drone over the country's southern territory.
Iran's IRGC shoots down intruding US spy droneIran's Islamic Revolution Guards Corps shoots down an intruding American spy drone in the country's southern coastal province of Hormozgan.
Elsewhere in his remarks, Fadavi said the victory of Iran's Islamic Revolution in 1979 served to negate all the "devilry and hostility" exercised by the entire global arrogance.
He asserted that the Islamic Revolution will take necessary measures to keep defending the world's oppressed people, including the Palestinians, adding, "It is only natural that the enemies are irate at these activities, but they cannot do anything about them."