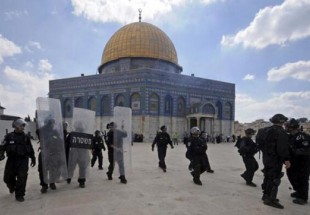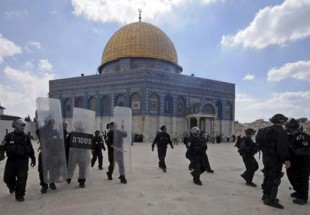 Dozens of Jewish settlers on Wednesday stormed Al Aqsa Mosque compound to perform their Talmudic rituals under the protection of Israeli police which cordoned off worshippers after firing tear gas and stun grenades.
"Police entered the area, pushed the masked rioters back, and they fled back into al-Aqsa. Police closed the front gate of the mosque but did not enter," Micky Rosenfeld, Zonist Israeli police spokesman, told Reuters.
Clashes erupted between Palestinians and Zonist Israeli police when settlers made a provocative tour in the Mosque's yards and performed their Talmudic rituals.
Omar Alkeswani, a Palestinian manager of al-Aqsa, said police entered the compound and that 20 people were wounded in the clashes.
Photos posted on social media sites by Palestinian worshippers have shown desecrated copies of the Qur'an and shells of stun grenades inside the mosque.
The clashes came amid continued tensions over right-wing Jewish demands to be able to pray inside the compound and the expansion of Israeli settlement building in east Jerusalem.
Zonist Israeli police used incendiary bombs and toxic tear gas bombs, as well as rubber bullets, leaving a number of Palestinians suffocated.
Wednesday's attack on Al-Aqsa followed calls by Israeli settlers to head to the holy mosque on Wednesday morning, "for the sake and health of rabbi Yehudah Glick."
The Jewish calls were posted in a Hebrew notice translated by Fatah which described the protest as a "consolidated storming of Al-Aqsa a week after the assassination attempt of the extremist rabbi Yehudah Glick."
According to a Times of Israel report, Fatah posted a notice on its official Facebook page Tuesday asking "all Jerusalem residents and Arab Israelis" to deter protesters from entering the compound, reported OnIslam.
Al-Aqsa is the Muslims' first Qiblah [direction Muslims take during prayers] and it is the third holiest shrine after Al Ka`bah in Makkah and Prophet Muhammad's Mosque in Madinah, Saudi Arabia.
Its significance has been reinforced by the Islamic incident of Al Isra'a and Al Mi'raj — the night journey from Makkah to Al-Quds and the ascent to the Heavens by Prophet Muhammad (Peace and Blessings be Upon Him).