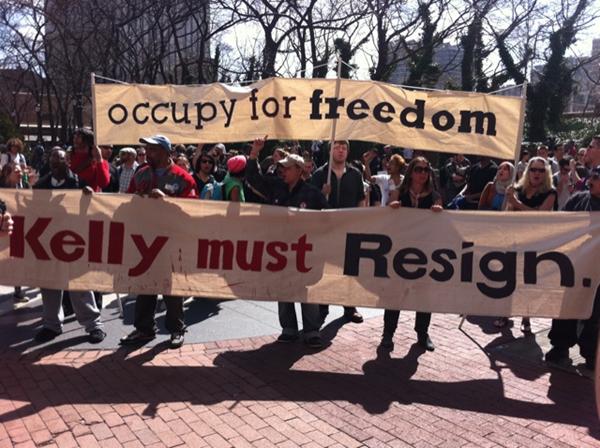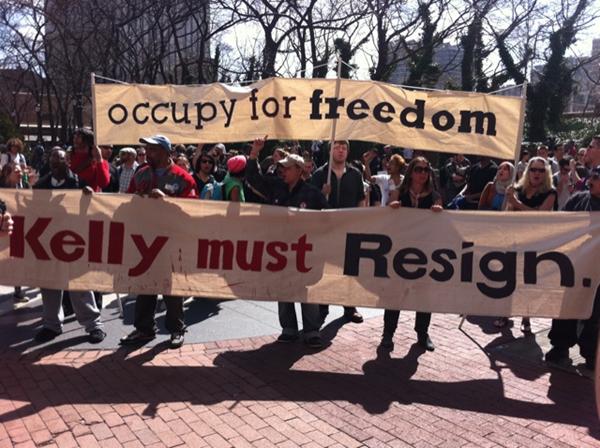 The US Occupy protesters have joined voices with members of New York's major communities in calling for the city's police commissioner to resign.
Together with members of Black, Latino and Muslim communities, the 99-percenters rallied in New York on Tuesday, demanding that the city's police commissioner, Ray Kelly, step down over the policies and brutal tactics adopted by the New York Police department (NYPD).
Around 100 activists took part in the rally in which they denounced the NYPD as both violent and racially biased. The protesters held a large banner at the front of the march that read "Kelly must resign."
The US police's violent tactics include the crackdown on Occupy protesters as well as the surveillance of Muslim communities and the use of stop-and-frisk powers.
The mass arrest of at least 73 Occupy protesters in lower Manhattan on Saturday triggered the latest rally.
Numerous Occupy protesters have described the evening as one of the most violent police crackdowns since the beginning of the movement in September.
The 99-percenters responded to the severe crackdown by uniting with other communities such as Blacks, Latinos and Muslims, who have also been the subject of NYPD's discrimination and brutality. They are planning another rally and mass action for Saturday.
The protesters have been using the slogan, "We are the 99 percent" to distinguish themselves from the one percent of Americans who are in possession of the greatest portion of the nation's wealth.
The Occupy movement emerged after a group of people on September 17 rallied in New York's financial district under the motto of 'Occupy Wall Street,' protesting corruption, poverty as well as social inequality in the US.