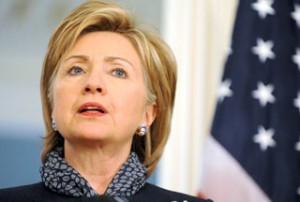 US Secretary of State Hillary Clinton expresses concern over the case of the three missing Americans near the Iran border and calls for their quick return.
"Obviously, we are concerned. We want this matter brought to a resolution as soon as possible," Clinton told reporters. "We call on the Iranian government to help us determine the whereabouts of the three missing Americans and return them as quickly as possible."
Three US nationals were reportedly arrested on Friday after crossing into Iran via Iraq's northern Kurdistan region.
She added that Washington had asked the Swiss Ambassador who represents US interests in Iran to help determine the status of the three.
Earlier on Sunday, head of the Iranian Parliament's foreign policy committee Alaeddin Boroujerdi said, "This case is currently on its natural course".
He, however, gave no further information about the status of the detainees.
This is while, Ayandeh quoted Colonel Anwar Haj Omar of the Halabja police force in northern Iraq on Sunday as saying that the three people were agents working for the Central Intelligence Agency (CIA).