Iran
North America
US blacklisting of Iran IRGC will strengthen terrorists: Defense min.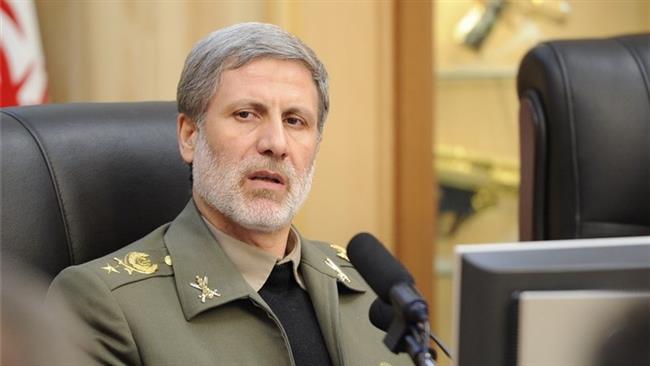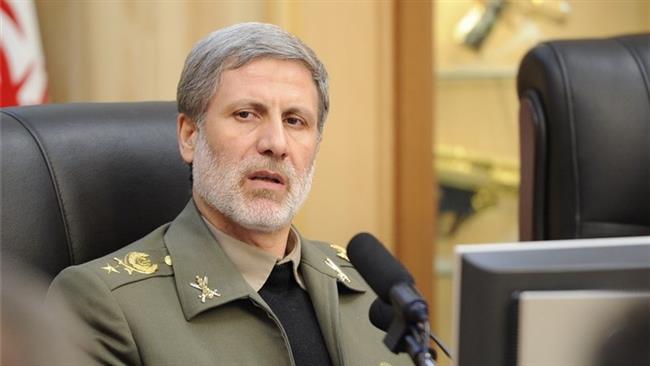 Iran's defense chief has slammed US President Donald Trump's threat to blacklist the Islamic Revolution Guards Corps (IRGC), saying any such move against the elite counterterrorism force would only promote terror and instability in the region and the entire world.
Brigadier General Amir Hatami praised the IRGC as "the most powerful" force "on the frontline" of the fight against terrorism, IRNA reported on Thursday.
Hatami said the IRGC belongs to all the regional nations, adding, "Any plot and action undermining this anti-terrorism foundation will help promote terrorism and insecurity in the region and across the world."
Hatami underlined Iran's determination to stand against recent US threats, adding, "The IRGC, the Army and all the country's forces stand united against the hostile, belligerent policies and actions of the US government, and will not allow them to jeopardize regional security through proxy war and terrorism."
In his planned speech on October 15, Trump is expected to designate the IRGC as a "terrorist" organization. Moreover, he is reportedly planning to announce that he will not certify the nuclear agreement, known as the Joint Comprehensive Plan of Action (JCPOA), reached between Iran and the P5+1 group of countries in 2015.
Iranian officials have warned that Tehran will take reciprocal measures against a potential "strategic mistake" by Trump to blacklist the IRGC.
Earlier this week, Iranian Foreign Minister Mohammad Javad Zarif warned the US against any measure targeting the IRGC.
"If American officials make such a strategic mistake, the Islamic Republic of Iran will take a reciprocal measure," Zarif said, adding, "Some measures have been thought out in this regard and will be taken at the appropriate time."
The IRGC's chief commander, Major General Mohammad Ali Jafari, said on Sunday that Iran would treat US troops like Daesh terrorists if the IRGC was designated as a terrorist organization by the US.
Trump's efforts to blacklist the IRGC come as the advisors of the Iranian elite force are currently assisting the Iraqi and Syrian forces in their anti-terrorism campaign against Daesh Takfiri militants and other terrorist groups in both countries.
While the IRGC's advisory military missions in Iraq and Syria, both hit by Daesh terrorism, have significantly boosted Iran's geopolitical influence in the region, the White House seeks to label Tehran's growing regional role as violation of the "spirit" of the JCPOA.
The nuclear agreement, however, is solely about Iran's nuclear activities and it does not incorporate non-nuclear issues.