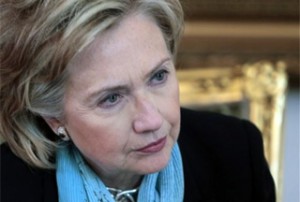 US Secretary of State Hilary Clinton says there is no evidence for Iran to charge three American hikers who were arrested near the country's border with Iraq.
Iran on Monday charged Shane Michael Bauer, Joshua Felix Fattal, and Sarah Emily Shourd, who were arrested on July 31, with espionage.
Tehran chief prosecutor Abbas Jafari-Dolatabadi said the three had entered the country to carry out acts of espionage.
Clinton, however, urged for their release.
"We believe strongly that there is no evidence to support any charge whatsoever," she said during a visit to Germany for celebrations commemorating the fall of the Berlin Wall.
"And we would renew our request on the behalf of these three young people and their families that the Iranian government exercise compassion and release them so they can return home," she said. "And we will continue to make that case through our Swiss protecting power, who represents the United States in Tehran."
According to Jafari-Dolatabadi, investigations into the case of the three are still underway. He added that the final decision about the detained US citizens would soon be announced.