Iran
North America
US violating international health regulations regardless of COVID-19 outbreak: Iran president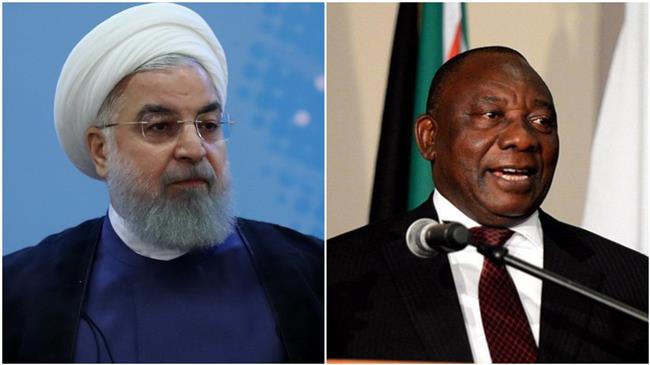 Iranian President Hassan Rouhani has lashed out at the United States for intensifying its sanctions against the Islamic Republic, saying the US is even violating international healthcare regulations despite a novel coronavirus pandemic gripping almost all world nations.
In a Tuesday phone call, Rouhani and South African President Cyril Ramaphosa discussed possible ways to strengthen bilateral cooperation aimed at countering inhumane US sanctions, ending crimes against the oppressed Palestinian people, and restoring peace and tranquility to Syria and Yemen.
Pointing to the US government's "inhumane and illegal" moves against the Iranian nation, Rouhani said, "While we are witnessing the coronavirus epidemic in the world and attitudes should change towards relations among countries, the US has unfortunately stepped up its unlawful sanctions against the Iranian nation."
"In addition to the violation of international regulations, the US also breaches global health regulations and is even preventing the transfer of health and medical goods to Iran," he added.
Iran expects South Africa, as a non-permanent member of the United Nations Security Council, to use the platform at the UN and other international circles to voice opposition to the US unilateralism and its illegal sanctions against the Islamic Republic, Rouhani said.
He stressed the importance of enhancing mutual relations, particularly in trade, economic and health sectors, urging the two countries to exchange experiences and information about ways to battle the coronavirus.
Iran, one of the Middle Eastern countries hardest hit by the pandemic, has been doing its utmost to contain the respiratory disease despite the hardships caused by the US sanctions.
The administration of US President Donald Trump has not only defied international calls in recent weeks to halt the draconian sanctions, but has even slapped more restrictive measures on the Islamic Republic.
Washington re-imposed its sanctions on Iran in May 2018 after unilaterally leaving a historic nuclear accord with the Islamic Republic and five other major powers that has been endorsed by the UN Security Council.
South Africa will stand by Iran in face of US sanctions: Ramaphosa
The South African president, for his part, said his country is well aware of unfair and illegal US moves against Iran and would continue to support Tehran to counter such measures.
Ramaphosa called for a collective fight against the coronavirus as a common enemy, saying it is not an appropriate time to create problems for nations through sanctions and pressure.