Human Rights
Iran
Middle East
North America
World News
Wife recounts Iranian scientist's ordeal in US jail
The wife of an Iranian material sciences professor, who has been held in the United States for close to three years on 'not-proven' charges of bypassing Washington's sanctions against Iran, has recounted his ordeal in American detention.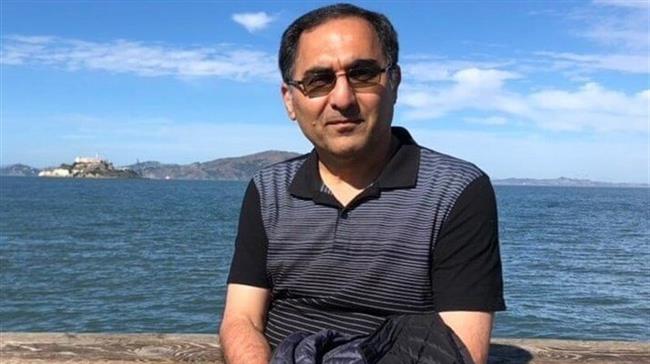 Sharif University of Technology Professor Sirous Asgari was arrested in the United States in mid-2017. Back then, the FBI alleged the scientist had shared information about a project he had conducted on a sabbatical in the US five years before with his students, his wife said in an interview published Sunday.
"The findings were published and made available on the Internet afterwards, which means there was nothing secret about the project. Nevertheless, they accused Asgari of stealing information," his wife said.
US legal authorities then charged him with withholding information in the process of visa application, circumventing the sanctions, and transferring technology to Iran.
Iranian scientist says he "won't survive" coronavirus in US jailSirous Asgari says US authorities are not doing enough to prevent coronavirus outbreak.
Trial delayed for 2.5 years
Washington then delayed the holding of a trial for him several times, "all the while knowing they had no evidence to bring against him," she said.
The Iranian professor was cleared of the charges at a court session that was ultimately scheduled after about two and a half years.
Renewed detention
However, US Citizenship and Immigration Services (USCIS) then took the matters out of the hands of the country's legal system, once again detaining Asgari for "lacking a valid visa and illegal presence on US soil."
Mr. Asgari argued against the renewed detention by reminding US officials that they themselves had seized his passport and were, hence, responsible for his prolonged presence in America.
Deportation canceled 13 times
Ever since, US officials have flown Asgari to a deportation hub in Louisiana on 13 occasions, but have returned him to the same detention center every time, his wife said.
"These actions certainly take place for political goals," she said, noting that Washington seeks to prolong Asgari's detention so that it can eventually swap him with an American prisoner held in Iran.
Squalid detention conditions
She said the Iranian professor was now being held at a place used for the detainment of people awaiting deportation. "The circumstances there are very tough and unsanitary," she said, noting that each detention hall accommodates between 70 and 100 prisoners.
The detainees have been denied facemasks despite the coronavirus' outbreak or proper uniforms, she said, adding that Mr. Asgari was even being confined by shackles.
This is not the first time the US subjects an Iranian scientist to such mistreatment on the basis of unfounded allegations.
In October 2018, the FBI arrested Iranian stem cell scientist, Dr. Masoud Soleimani at an airport in Chicago. Soleimani had been invited by the Mayo Clinic in Minnesota to lead a research program there.
Iranian scientist Soleimani arrives home after over one year behind bars in US Freed Iranian stem cell scientist Soleimani arrives in Tehran after over one year of imprisonment in the United States.
The arrest was made on alleged charges that he had violated the US trade sanctions against Iran by trying to have biological material brought to the Islamic Republic. The charges related to September 2016 when Soleimani had seized on two former students' plans to travel from the US to Iran to get recombinant proteins, which are found fundamentally in every medical testing and biological research laboratory.
Soleimani was secretly imprisoned in Atlanta, Georgia without trial after arrest. He traveled back to Iran in December after being released by the US in a prisoner swap.
Last May, Mansour Gholami, Iran's minister of science, research, and technology, warned that the United States was setting traps for Iranian scientists, enabling their entry into the country before arresting them.