Bahrain
Middle East
North America
Zionist Bahrain joins US military coalition in Persian Gulf
The Al Khalifa regime in power in Bahrain has announced support for a US coalition in the Persian Gulf as Washington remains desperate to recruit more allies in its attempts to escalate tensions with Iran.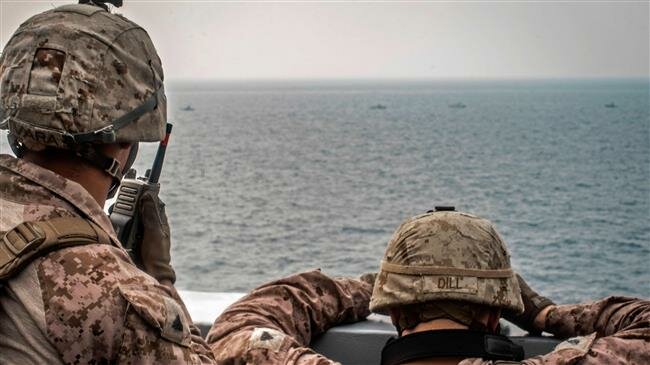 In an announcement on Monday, the Bahraini authorities confirmed that they are joining forces with the United States.
According to the official Bahrain News Agency, King Hamad bin Isa Al Khalifa "confirmed the Kingdom of Bahrain's participation in the joint effort to preserve the safety of international maritime navigation and secure international corridors for trade and energy in the region."
Iran Navy chief announces 'classified' deal with RussiaThe commander of Iran's Navy says he has signed a classified deal with his Russian counterpart, which encompasses upcoming joint military drills in the Persian Gulf among a range of other projects.
The announcement from Manamah came as US was isolated among its traditional allies, such as the UK, amid attempts to convince them to join the so-called Operation Sentinel, supposedly aimed at protecting commercial vessels traveling through the Persian Gulf.
As the commander of US Central Command, General Frank, claimed in a statement later, "The free flow of commerce throughout international waterways is a linchpin of the global economy, and we appreciate the Kingdom of Bahrain's leadership and support in preventing aggression from curtailing that freedom."
"Threats to the free flow of commerce are an international problem requiring an international solution, and we are pleased that the Kingdom of Bahrain will be a part of that solution," further claimed the top US commander in the region.
Zarif: US coalition in Persian Gulf 'failure in advance'Foreign Minister Mohammad Javad Zarif strictly deters the idea of foreign military presence in the region.
It is not still clear what Bahrain, home to the US 5th Fleet, is supposed to do for the so-called coalition.
Iran has previously warned against the United States attempts to sow insecurity in the Persian Gulf and the strategic Strait of Hormuz to use it as an excuse for military buildup in this region.
Tehran has asserted that it stands ready to defend its interests in the region.