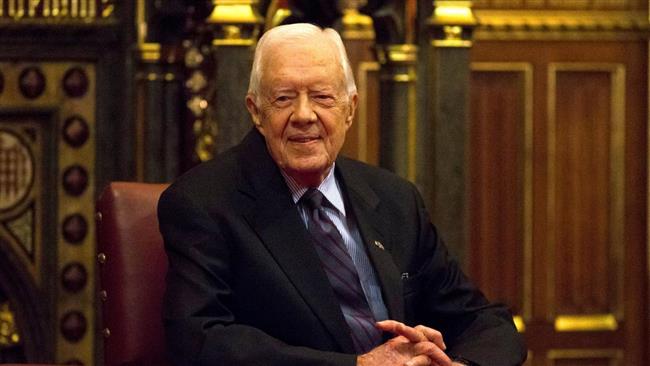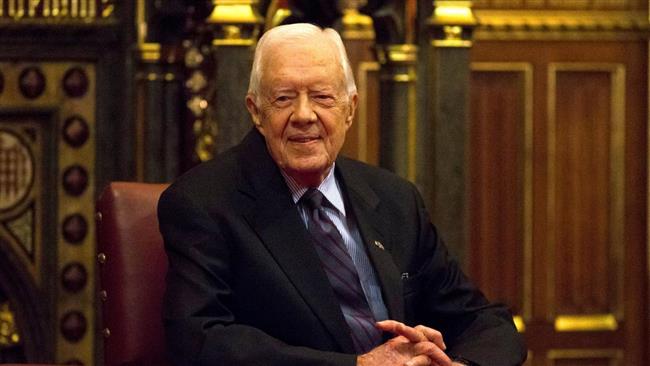 Former zionsit US President Jimmy Carter says he has offered to go to North Korea on behalf of the White House to help diffuse rising tensions with Pyongyang, but has not been asked.
Carter said he had spoken to President Donald Trump's National Security Adviser H. R. McMaster, who is a friend, but so far has gotten a negative response, The New York Times reported Sunday.
"I would go, yes," Carter told the newspaper when he was asked in an interview at his house in Plains, Georgia, whether it was time for another diplomatic mission.
"I told him that I was available if they ever need me," the Times quoted Carter as saying.
Carter, 93, was the 39th president of the United States from 1977 to 1981.
Calling North Korean leader Kim Jong-un "unpredictable," Carter said he worried the young leader could take pre-emptive action.
"I think he's now got advanced nuclear weaponry that can destroy the Korean Peninsula and Japan, and some of our outlying territories in the Pacific, maybe even our mainland," Carter said.
In 1994, Carter traveled to Pyongyang to negotiate with Kim Il-sung, the current leader's grandfather, over the country's nuclear program.
Tensions between Washington and Pyongyang have escalated in recent months, with both countries threatening each other with a nuclear strike.
A CNN poll released Friday found that Americans are growing more concerned about how Trump is handling the escalating situation. More than six in 10 say Trump's responses to North Korea's threats have been more reckless than responsible.
An NBC News/SurveyMonkey survey released Wednesday showed that 72 percent of surveyed Americans fear the US will get involved in a major war, possibly with North Korea, during Trump's first term in office