Palestine
Middle East
Zionists groups plan further violence against Palestinians amid lynchings
Israeli groups are planning further attacks on Palestinians residing in the occupied territories after settler mobs roamed the streets, looked for Arabs and viciously attacked them while zionist police forces stood by and watched.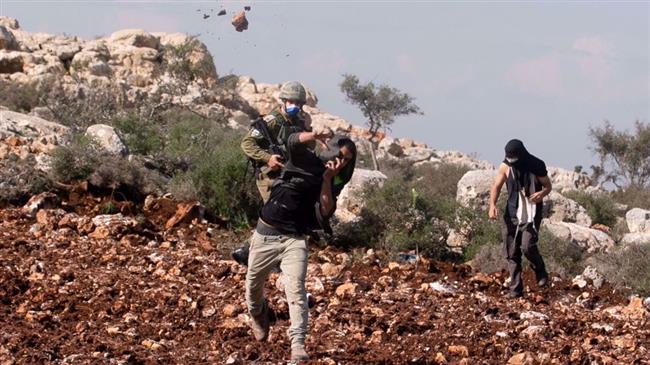 "Bring everything, knives, gasoline. Don't be scared, we are the chosen ones," one message seemingly on a Signal group chat named 'The Underground Unit' with several hundred members read, London-based online news outlet Middle East Eye reported.
"Good job at Bat Yam yesterday," another message read, referring to a spate of violence in the Israeli city, where Israelis pulled a man they believed to be Palestinian from his car and violently beat him unconscious live on Israeli television on Wednesday night.
"Today we'll go back to make some mess at 6 p.m. Let's meet at the seafront," the message continued.
In another message, which appeared to be posted on a WhatsApp group called Israel People Alive Haifa, a forwarded message gave the location of a Palestinian march in Tel Aviv.
"Any Arab you see – you stab. Please come equipped with flags, bats, knives, guns, brass knuckles, wooden boards, pepper spray, anything that would hurt them. We will restore the honor of the Jewish people," it read.
Video footage posted on social media on Thursday evening appeared to confirm Israelis were marching in Tel Aviv areas mentioned in the group chat.
"We need Molotov cocktails. To the mosque. To make them shake. We'll burn their houses, their cars, everything," one user wrote in another WhatsApp group chat.
Someone in the group suggested meeting in Halisa district of the northern city of Haifa.
"Empty glass bottles, T-shirts, a few liters of gasoline," one person wrote of the ingredients to make a Molotov cocktail.
On Thursday, Amnesty International called upon Israeli authorities to "take action against platforms that allow incitement to hate crimes, such as groups on social networks and messaging applications" after a host of screenshots of hate-mongering messages were shared online.
"The commission of violent and even deadly hate crimes justified seeing them as platforms of incitement to be monitored and closed," Amnesty wrote in a letter, saying this could reduce the horrific lynchings.
"We turned to the police several times already on Tuesday, and we reported on the plentiful and concrete evidence of organization of retaliatory actions against Arabs," the letter added.
Amnesty's letter also urged Israeli officials to classify Lehava group, whose followers have instigated recent violence in the occupied territories, as a terrorist organization.
Spiraling levels of crime and violence against the Palestinian communities as well as the Israeli police's inaction to curb violence has outraged Palestinian citizens of Israel, prompting tens of thousands of them to stage mass demonstrations.
Protesters took to the streets in the city of Umm al-Fahm northwest of Jenin on March 5 in what some reporters described as the largest rally against violence and organized crime in the Israeli-occupied territories since the 1980s.
The demonstrators carried Palestinian flags and placards condemning the Israeli police racism and complicity with criminal gangs.
They said Israeli forces refused to crack down on powerful criminal organizations in the occupied territories.
In recent years, there has been a steep rise in crime and violence against Arab communities across the occupied territories.
Since the beginning of 2021, 22 Arabs have died in violent Israeli attacks. According to Israeli police, 113 murders took place in Arab communities in 2020, making it the deadliest year yet.
In 2019, at least 91 Palestinian citizens were killed as a result of violent Israeli crimes, accounting for 71% of the 125 homicide victims in the occupied territories, where the community makes up about 21% of the population.