North America
Clashes in Mexico leave one teacher dead, dozens injured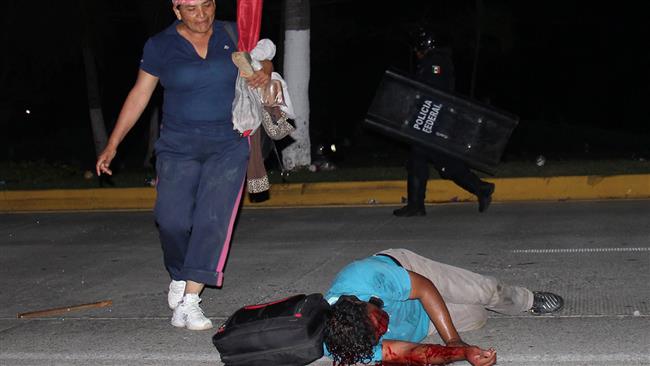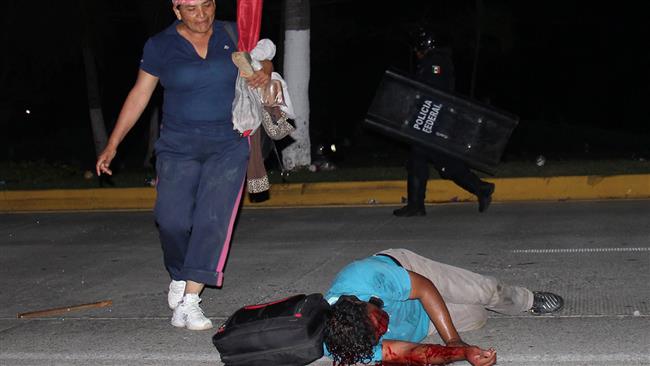 Clashes between Mexican police and protesting teachers have left one dead and dozens injured.
The riot police in the major seaport city of Acapulco in the Pacific coast state of Guerrero intervened to disperse some 5,000 protesters who had barred the access road to the city's airport for six hours on Tuesday, AFP reported on Wednesday.
The protesters reacted by running a bus to the police contingent which left one protester dead and 12 people injured – seven police officers among them, according to an interior ministry statement.
Raul Miliani, an official for civil protection in the Guerrero state, confirmed the death, saying "I couldn't determine the cause, but it was a person with head trauma who was being transported in an ambulance."
The protesters also threw rocks and other objects at the police forces, the ministry said.
The spokesman of the union of the State Coordinator of Teachers of Guerrero (CETEG), Manuel Rosas, identified the dead person as 65-year-old retired teacher Claudio Castillo. He was hit by police officers, Rosas claimed.
According to the union, which has held several protests demanding better conditions for teachers, at least 112 people were detained during the recent clashes.
They demanded improvement in payments and justice for 43 missing trainee teachers.
The teachers and many in Mexico blame local police forces in Guerrero for plotting with a local drug cartel in the kidnapping and probable murder of the trainee teachers in September 2014.