Iran
Middle East
North America
Ex-IRGC Chief: Resistance to Go on Until Expulsion of US Troops from Region
Former Commander of the Islamic Revolution Guards Corps Major General Mohsen Rezayee said the Islamic Resistance Front in the region will not give a break to its activities until a complete US pullout from the region.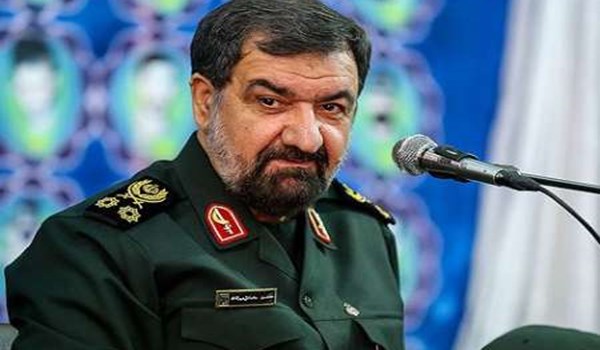 "The nations of the Resistance Front have got closer than any time in the past and the activities of the Islamic Resistance Front will go on till the expulsion of American troops and forces from the region," said Major General Rezayee on Tuesday, on the sidelines of a ceremony for commemorating the hero of anti-terrorism fight in the region, Lieutenant General Mohsen Rezayee, who was brutally assassinated by the terrorist army of the US at Baghdad International Airport on January 03.
The ex-commander highlighted the assassination as a historical turning point that has brought the two nations of Iran and Iraq, once again closer to one another.
He named General Soleimani and Deputy Head of PMF Abu Mahdi al-Muhandis as heroes of fighting terrorism and defending Islam and Quran as the common grounds between Iran and Iraq, and added that these commonalities have further solidified the ties between the two nations.
"It proves that Iran-Iraq ties are not based on interference in the internal affairs of one another but on friendship and brotherhood," he underlined.
General Soleimani was martyred in a targeted assassination attack by US aircraft at Baghdad International Airport last Friday. Pentagon also martyred Abu Mahdi al-Muhandis, deputy commander of Iraq's Popular Mobilization Forces (PMF), or Hashad al-Shabi, five Iranian, and five Iraqi militaries.
The strike brought the United States and Iran to the brink of war, with Tehran retaliating by launching missiles at military bases in Iraq housing American troops. On Wednesday, Iran fired more than a dozen missiles at two American military bases in Iraq in retaliation for Washington's assassination of Tehran's elite commander.
Iranian officials branded the airstrike an "act of international terrorism" and promised retaliation. Iran has time and again warned that it will not be the initiator of any war, but reserves the right to self-defense and will give a crushing response to any act of aggression by the United States.