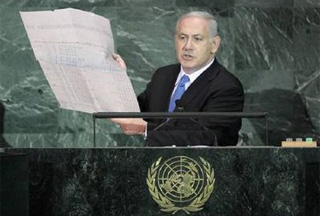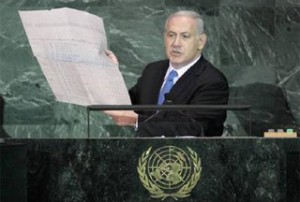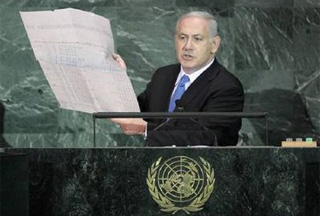 Palestinians from both Hamas and Fatah factions have criticized the speech of Israeli Prime Minister Binjamin Netanyahu at the UN General Assembly as 'bogus and unacceptable'.
"Netanyahu spoke of the Holocaust but Israel committed the largest massacre of the century," Hamas spokesperson, Sami Abu Zuhri, said in reference to Operation Cast Lead which resulted in the death of over 1,500 Palestinians and the injury of about 5,450 people in the impoverished Gaza Strip.
He added the Israeli Prime Minister is seeking to justify the massacres in the blockaded coastal sliver, and that such falsehood cannot reverse confirmed war crimes against Gazans.
Abu Zuhri further highlighted that Palestine is the homeland of the Arabs, the Palestinians and the Muslims, and will never be a Jewish land no matter what.
Hamas legislator Mushier Al Masri, meanwhile, stated that Netanyahu does his utmost to cover up the Gaza manslaughter in the hope to twist the world logic and gain support for 'Zionist terrorism".
The Palestinian Authority's chief negotiator with Israel, Saib Erekat, also called Netanyahu's demand that the Palestinians recognize Israel as a Jewish state 'unacceptable'.
During his UN General Assembly speech on Thursday, Netanyahu referred to the Holocaust and the decision to annihilate the Jewish people during the Nazi era. He also reiterated his demands that the Palestinians must recognize Israel as a Jewish State as a precondition to resuming the stalled peace process.