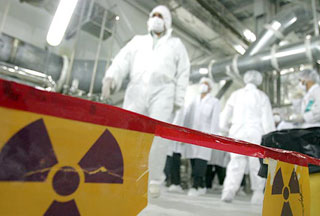 A Western drive to impose a new set of tougher sanctions on Iran over its nuclear program may prove to lose momentum due to strong opposition from Russia and China.
The tense UN Security Council meeting began on Thursday with a salvo of warnings from UN representatives of France, Britain, and the US — all of whom stood united in their demands that Iran should comply with their demands over its nuclear activities.
Mark Grant, the British envoy to the United Nations, told reporters that if Tehran ploughs ahead with its nuclear work, it will face another set of coordinated and punitive economic and political measures as soon as next year.
French UN Ambassador Gerard Araud, meanwhile, said: "We make a last call to Iran to respond" to Security Council demands. "If Iran does not… France will present a new resolution of sanctions."
US Ambassador Susan Rice added voice to her French and British counterparts, stressing that the West is "firm in its conviction that Iran must comply with its international obligations."
"Should Iran continue to fail to meet its obligations, the international community will have to consider further actions," she noted.
Iran came under renewed pressure last week when the International Atomic Energy Agency (IAEA) passed a resolution demanding that Iran stop construction of the newly-revealed Fordo nuclear facility outside Tehran.
The resolution was met with fury in the Tehran government, particularly because it was adopted regardless of a recent UN report, which confirmed for the twenty-first time the non-diversion of Iran's nuclear program from the frameworks of UN nuclear watchdog or international regulations.
The report also confirmed and praised Iran for allowing a UN team to carry out a full inspection of its under-construction Fordo facility.
However, calls for tougher sanctions were met with skepticism from representatives of China and Russia, both of whom called for patience and restraint in dealing with Iran.
"There is still space for the diplomatic efforts of the international community to resume talks. It may require more time and patience on all parts," said Zhang Yesui, China's envoy to the UN.
Russian Ambassador Vitaly Churkin stood with his Chinese counterpart, announcing his opposition to a new round of sanctions against the Tehran government.
The Security Council, under Us pressure, has so far adopted three sets of sanctions against Iran over its enrichment program, which has been thoroughly inspected by UN officials.
Tehran says its activities are intended solely for the peaceful generation of electricity and for medical purposes.
In a separate interview, the former director of the UN nuclear watchdog, Mohammed ElBaradei, also stated his opposition to the imposition of further sanctions against Iran, saying the nuclear issue can be only resolved through diplomatic means.
"Sanctions are not the solution," he told the Austrian newspaper Kurier.