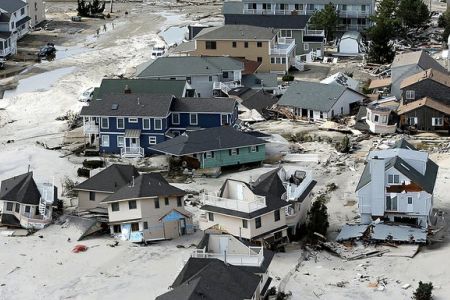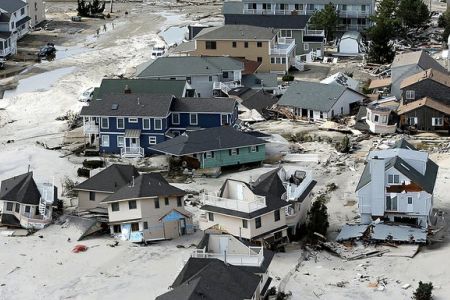 While Congress continues to drag its feet in passing a $60 billion relief package for the victims of Hurricane Sandy, a new report shows that residents in the region still haven't been able to return to their homes, while others are living without heat more than two months after the storm.
According to a survey released by New York Communities for Change [PDF] and the office of Public Advocate Bill de Blasio, nearly one-fifth of Rockaways residents are not living in their homes, one-third are without heat (tonight's low is 27 degrees), and two-thirds are living with mold or have paid out of their own pockets for mold removal and remediation.
The survey, which looked at a cross-section of a larger sample population of 1,200 Rockaways residents, notes that while the federal government won't reimburse homeowners for mold removal and remediation, it will compensate New York City.
"Mayor Bloomberg…should implement a mold and sheetrock removal program immediately that stops the public health crisis and reimburses homeowners for expenses related to mold remediation," the report recommends.
While Mayor Bloomberg has touted the success of his Rapid Repair crews that helped residents return to their homes, NYCC urges him to implement a similar program for mold removal.
Last month, the mayor announced that a "comprehensive after-action review" was underway to evaluate the city's response to Sandy, and that report is due by February. Another committee is charged with developing "concrete recovery plans for the communities Sandy hit hardest."
"NYCC has been on the front lines since the storm hit," de Blasio's spokesman Wiley Norvell said of the report. "They've been in the field ever since, and have worked hand-in-hand with homeowners to meet basic needs and rebuild. We have tremendous confidence in their work." If you'd like to help with mold remediation in the Rockaways, contact the volunteer organizations mentioned in this article. Occupy Sandy in Red Hook apparently needs help too.
HIGHLIGHTS
The New York Daily News notes that about 10 percent of residents in that neighborhood are still without power. Huffington Post
"If you're in this neighborhood — which is a low-income neighborhood — you're either going to be forgotten about, or [officials will say] we'll get to you when we get to you," said Lesly Torres, a 30-year-old mom whose two-bedroom Far Rockaway home took in about four feet of water during the storm. Huffington Post
News about the continued suffering of Rockaways residents comes as an ongoing stalemate over a $60 billion Sandy relief package continues to languish in congress. Huffington Post
New Jersey Governor Chris Christie launched a verbal attack on House Republicans Wednesday for failing to hold a vote on the Hurricane Sandy relief bill.
"There is only one group to blame for the continued suffering of these innocent victims: the House majority and their speaker, John Boehner," he said. "This is not a Republican or Democratic issue. Natural disasters happen in red states and blue states and states with Democratic governors and Republican governors. We respond to innocent victims of natural disasters, not as Republicans or Democrats, but as Americans. Or at least we did until last night. Last night, politics was placed before oaths to serve our citizens. For me, it was disappointing and disgusting to watch."