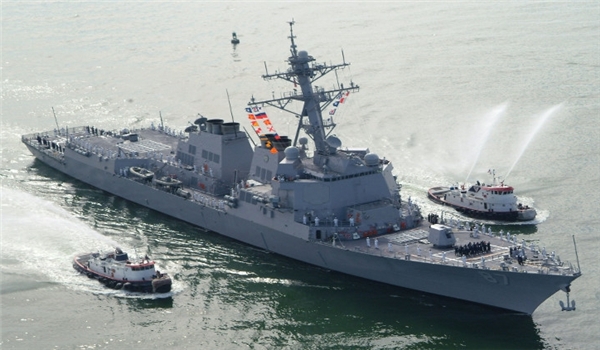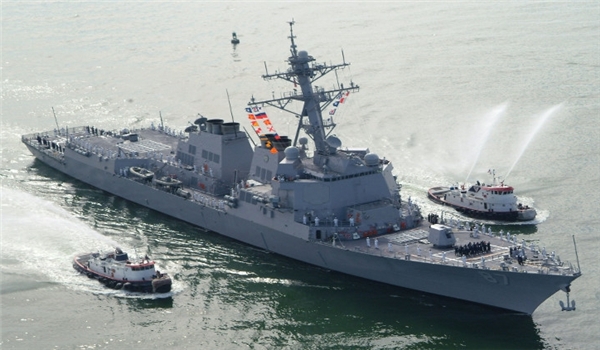 Two US-led coalition warships deployed in the region were shooed away from the zone of the Iranian military wargames underway in the country's Southern waters and the Sea of Oman.
"This morning and in the first hours of the drills, two warships of the coalition which had approached the drills zone to monitor the Iranian Navy units were identified by the Navy drones," Spokesman of the drills Rear Admiral Seyed Mahmoud Moussavi told reporters on Monday.
"After declaring the issue to the drills' tactical base, the patrolling and reconnaissance planes flew over the coalition warships and warned them (to leave the region) and the warships left the drills zone," he added.
The military exercises codenamed Mohammad Rasoulollah (PBUH) started in the country's Southern and Southeastern waters, South Makran region and the Northern coastline of the Sea of Oman on Monday.
The drills were launched at the order of Iran's Deputy Army Commander for Coordination Rear Admiral Habibollah Sayyari.
The wargames, participated by the Army's Ground, Air, Navy and Air Defense Forces will continue for two days.
During the wargames, different Naze'at and Fajr5 rockets, 155-mm laser-guided cannon balls and automatic 122-mm cannon balls were fired.
Meantime, different vessels, including light and heavy submarines and various types of helicopters and reconnaissance planes were used in the drills.
In a relevant development in September, a US warship was shooed away from Iran's territorial waters after it received a tough warning from an Iranian navy vessel.
The incident happened when an Iranian fishing boat named Shams demanded Navy's help after an engine malfunctioning in waters 45miles off the coast of Iran's Jask port.
The Iranian Navy sent its missile-launching warship, Falakhan, for help and the fishing boat was towed to the pier to prevent further damage and drowning.
A US warship with the body number 02 was approaching the fishing boat but it was shooed away after receiving a warning from the Iranian warship.
The incident happened a few months after a commander of the Islamic Revolution Guards Corps Navy blasted the recent change of course by a US warship towards the IRGC vessels in the Persian Gulf, and warned of the dire repercussions of such "unprofessional" actions by Americans.