Latin America
North America
World News
Venezuela files lawsuit against US at ICC over cruel unilateral sanctions
Venezuela has filed a lawsuit against the United States at the International Criminal Court (ICC) for Washington's sanctions decried by Caracas as "crimes against humanity."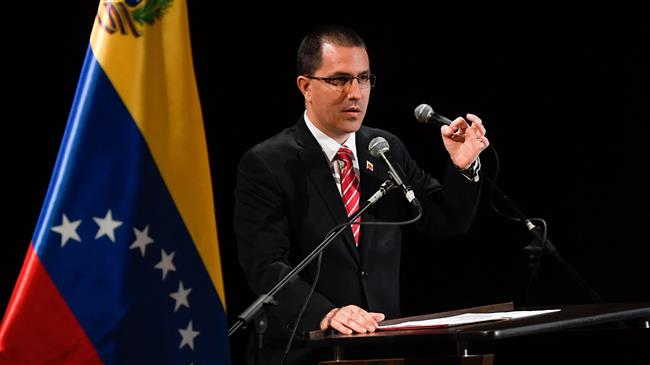 Venezuelan Foreign Minister Jorge Arreaza made the announcement as he was speaking to journalists in The Hague on Thursday.
Arreaza said the Latin American country had submitted the 60-page suit to the court, stressing that the US policy of sanctions has been "a death sentence for tens of thousands of Venezuelans per year."
"Our government is seeking refuge with international law," the top Venezuelan diplomat said. "We are convinced the consequences of the unilateral measures (by the United States) constitute crimes against humanity against the civilian population."
Arreaza also said the lawsuit, handed to ICC chief prosecutor Fatou Bensouda on Thursday, was accompanied by a letter from Venezuelan President Nicolas Maduro.
The 57-year-old leader had earlier announced that he would file a lawsuit against the administration of US President Donald Trump over the economic damages it caused to his country through its unilateral sanctions against Venezuela.
Venezuela says will sue US over economic damages of sanctionsVenezuela says it will file a lawsuit against the US administration for imposing sanctions on its state-run airline.
"We will seek international justice with a lawsuit against the government of Donald Trump. I have ordered this and I ask for all the support from the national general public, all the support for this international claim," Maduro said at a rally in Caracas on Monday.
"A global lawsuit against the policy of aggression and sanctions of coercive measures; Venezuela will seek justice in international courts."
Maduro also took a swipe at Venezuelan opposition figure Juan Guaido, and said, "We have to point a finger at the person responsible for these sanctions. His name is Juan Guaido, he is directly responsible for these sanctions."
Guaido is considered responsible for causing political crisis in Venezuela when he unilaterally declared himself "interim president" of the country in January last year, rejecting the outcome of the May 2018 election, which Maduro had won. Guaido also later launched an abortive coup against the elected government.
Venezuela's Guaido defends US sanctions against MaduroVenezuela's opposition leader Juan Guaido has been slammed for defending US sanctions against the country.
Guaido's self-proclamation as president and his coup received full support from Washington. Caracas has said election results must be respected, but has applied lenience and refrained from arresting Guaido over the coup.
The US has imposed several rounds of sanctions against the oil-rich South American country aimed at ousting Maduro and replacing him with Guaido.