Iran
Middle East
North America
World News
Commander: Iran's Air Defense Capabilities Disappointing for Enemies
Commander of the Iranian Army's Air Defense Force Brigadier General Alireza Sabahifard said on Saturday that his country is hugely ahead of plans in developing air defense capabilities, adding that air defense capabilities have disheartened Tehran's enemies.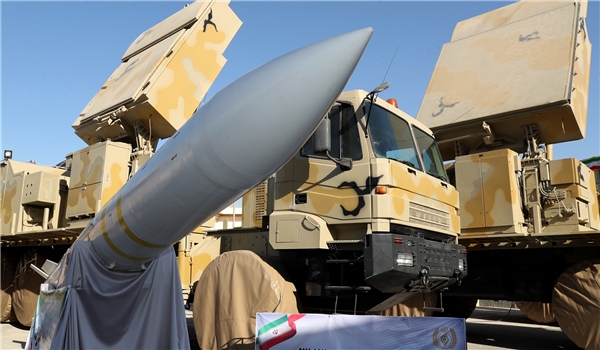 Speaking at Imam Khomeini's Mausoleum in the Southern outskirts of Tehran this morning, Brigadier General Sabahifard described Iran's defense achievements in the past year as successful.
He then referred to the newly-unveiled homegrown air defense system, "Bavar-373", and added that the system is enjoying many advanced features which are possessed by a limited number of countries.
Sabahifard highlighted that because of being 100% homegrown which according to him is an important advantage of the system, "Bavar-373" is capable of adapting to different weather conditions in Iran to operationalize and respond to threats.
The surface-to-air missile system, dubbed Bavar-373, was unveiled during a ceremony on last Thursday morning in the presence of President Hassan Rouhani, Defense Minister Brigadier General Amir Hatami and other senior military officials.
Hours later on the same day, Head of Iranian Defense Ministry's Organization of Electronic Industries Brigadier General Shahrokh Shahram said that "Bavar-373" enjoys more features and capabilities than the US Patriot system and its Russian counterpart S-300, said.
General Shahram's comparison between Bavar-373 and Patriot system came after a recent United Arab Emirates intelligence report said the US-supplied Patriot system has failed to repel Yemeni retaliatory drone strikes against Saudi Arabia.
On Sunday, Chief of Staff of the Iranian Armed Forces Major General Mohammad Hossein Baqeri said "Bavar-373" has produced more successful results in tests than the latest edition of its US-made rival Patriot PAC-3.
The Iranian military chief said that the air defense system successfully passed every test it was given.
He said that according to the results of the survey and the tests on "Bavar 373", it has a range of 120 to 200 km and it showed that it was more successful in various dimensions than the renowned US Patriot system (PAC-3).
Baqeri further noted that the new air defense system will increase Iran's deterrence power.
He hailed holding the exhibition for covering Iran's many military achievements.